SAVE OCEAN AVENUE COMMIITTEE
May 1, 2022
Hello everyone, hope you are all doing well,,,,,,,,,,,,, summer is coming,,,,,,,,,,,,,,,,,,,,
It is getting warmer and the oyster catchers have returned to the south end of the Cottage Avenue Beach. NJDEP wild life has roped off the area hoping to give the new eggs a chance to hatch. You can see the new site from the boardwalk at Avery and Ocean Avenues. It will take everyone's' help to prevent loose dogs, people, fence jumpers, and beach goers, etc., from disturbing the new eggs so they can hatch properly. One oyster catcher is sitting on her egg and waiting for the egg to hatch.

I am happy to report that our main goals have been listened to and include:

A new safe bikeway from north to south along the boardwalk and throughout the city which is being planned. Regular committee meetings are taking place. The preservation of the boardwalks' north and south green acre traffic free parks is preserved and pleasing art, culture and history of Long Branch will be visible for all to see along the boardwalk and beach access points. Quarter mile markers have been etched into the boardwalk from Pier Village's Moss Mile south and at every quarter of a mile to Brighton Avenue to encourage healthful walking and jogging. Soon, save ocean avenue art boards of Winslow Homer and 4'by8' history boards and paintings of Long Branch will be put back up at the beach access points. At the bathrooms at West End Avenue and Cottage Avenue picnic benches and flower boxes will be put back up. Disability services at the beaches continued to help all those that need them. If you haven't noticed the boardwalk bathrooms at West End and Cottage Avenue are now opened and being used.
The city is in process of sending out to qualified condominium's the early reimbursement checks for lighting and snow removal over payments. If you got a check last year you should expect to get a check this year. The public works department 732 571 5665 can answer any of your condominium's questions concerning these checks and get changes in condo board presidents' names and addresses.

We continue to work on our other SOA/LBCC objectives. One of our most important and continuing goals is to improve the safe crossing of Ocean Boulevard and to get safely across with beach chairs and families to and from the beach. Summer crowds and heavy traffic especially on congested summer weekends make crossing Ocean Boulevard difficult and dangerous. Another goal is to keep improving the road safety for people using the two green acre parks and especially Ocean Avenue from South Bath Avenue to Pier Village where cars and traffic are mixed with bike riders and beach goers that use Ocean Avenue along the boardwalk. This area gets heavily congested during the summer with many cars, bikes, and people.
SAVE OCEAN AVENUE COMMIITTEE
Dec 1, 2021


Hello everyone ,hope you are all doing well ,,,,,,,,,,,,,winter is almost here ,,,,,,,
I am happy to tell you the city of Long Branch under the direction of Stan Dziuba Public Works/Emergency Management and the new Director of Public Safety Domingos Salidas have listened to our requests and have made additional changes in traffic safety and enhancing the board walk with art, culture and history. The SOA committee has been working on these goals for a long time and also for the completion of a new bikeway from north to south Long Branch which is underway. There are now more traffic safety signs along Ocean Boulevard and Ocean Avenue. There has been more enforcement of traffic violations on the beach front, for dogs and bikes on the boardwalk, illegal parking and people jumping the boardwalk railings. There are again children at play placards in the roadway on Ocean Avenue in the south green acres linear no traffic park for people to use more safely. The shade park, picnic tables and flower garden boxes are being put back up at the West End road way by the bathroom for all to use and enjoy. The Save Ocean Avenue 4 by 8 ft. art, history, and culture boards of Long Branch are being put back up on the beach at the beach access points along the boardwalk to enhance the ocean walk along the boardwalk. The seven presidents 4 by 8 ft. art board portraits are next to the boardwalk by the roadway as you enter the south green acres linear park at Brighton Avenue, at the beginning of the boardwalk ocean walk to enjoy the start of the ocean walk.
Stay safe ,,,,,,,,,,

Dennis Sherman
Chairman Save Ocean Ave Committee
Some New Birds Visted Long Branch This Fall:
Above is a group of Sanderlings - an Arctic nesting species that sometimes winters in NJ and below (with the crazy hairdos) are Royal Terns.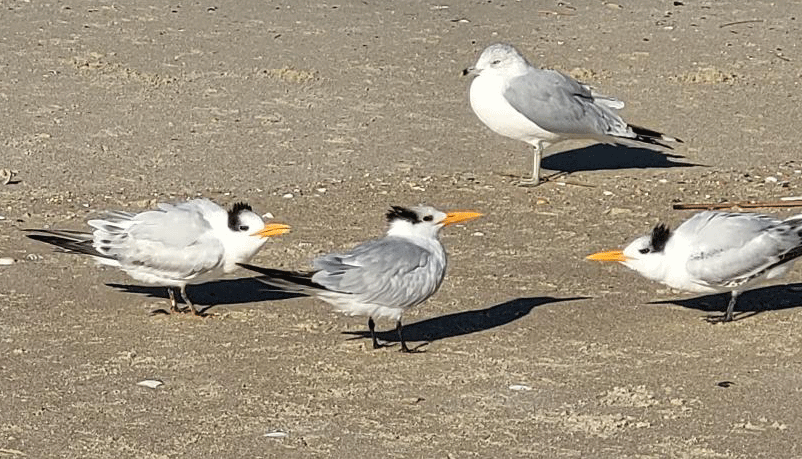 SAVE OCEAN AVENUE COMMITTEE
MESSAGE
Hello everyone, Hope you're all doing well ,,,,,,

The beginning of May is right around the corner. I am happy to tell you that after much back and forth with the city of Long Branch to try and get more safety signs on the roadways earlier, that the city is planning to put out the pedestrian safety sandwich boards crossing signs on Ocean Boulevard and Ocean Avenue at the crosswalks as of May 1,2021. Thanks to those of you who have written and asked the city and SOA/LBCC, for safety to be improved as quickly as possible. Ocean Boulevard can be made safer with these signs all year round and not just the summer season, like Sea Bright. Especially with visitors increasing to Long Branch daily because of the covid crisis. Many of our city residents and visitors and families cross the Boulevard, or ride bikes all year round to walk the boardwalk and it dangerous crossing two lanes of traffic going at very fast in both lanes.

A second goal of the SOA and LBCC committee, responding to all your questions and requests, is to help get a safe new bike way that runs from Lake Takanasssee to Monmouth Beach connecting the already traffic free north and south linear green acre parks along the ocean front on Ocean Avenue, where cars and traffic, currently are not allowed. It is safe to use the two green acre parks without fear of being hit by a car. We have spent much time and effort with the city of Long Branch and the engineering department of Monmouth County to try and get more safety for Ocean Boulevard and a new safe bikeway. There is no soft shoulder for bikes from Pavilion Avenue in front of Pier Village north. Many letters and discussions have happened from me and SOA/LBCC to try and make this happen. Last year the idea of a new bike way was finally put into the city's master plan and a meeting held with the city to try and get bike grants and funding. No funding for bike grants was put in. The County also put in a multimillion-dollar grant to fix all of Ocean Boulevard and the traffic intersection at Brighton Avenue and Ocean Boulevard. A separate bike audit of the city for a new bikeway was completed by the city's Green Committee and Environmental Committee and the results given to the mayor with specific recommendations. All this happen last year.

A whole year has passed. To date I have been told by the county engineer that the study grant was not accepted to make new improvement's to Ocean Boulevard. I am not aware after much discussion of any new further action being taken on moving ahead with implementing a new bikeway, or any new plans to improve pedestrian and traffic safety on Ocean Boulevard and Ocean Avenue south of Brighton Avenue.

We are in a new time at the city of Long Branch, with many visitors coming to Long Branch year-round, and with new condominium buildings opening up along the ocean front by the railway station and next to Seven Presidents Park, and there will be even more congestion. This will result in more people, more cars, more traffic all along the oceanfront and north and south of Pier Village ,not only in the summer, but year-round. What new plans are there to improve the safety of Ocean Boulevard and Ocean Avenue and when will the the new bike way be started. Last summer the crowds forced beaches to be closed and Ocean Boulevard was clogged up with traffic especially at Brighton Avenue. What is going to change this year and how quickly will it happen? What are the cities priorities to quickly deal with these problems?

The city has zoom council meetings every other week and the mayor and city council are very accessible and open to phone calls and e mails, and ideas and complaints. Write or call the mayor jpallone@longbranch.org Your voice counts and unless the city makes the safety of Ocean Avenue and Ocean Boulevard and a new safe bikeway a higher priority, nothing more will happen.
I urge all of you who care, to call into the city council meeting tonight Wednesday at 7:30 PM and help ask these questions. The numbers to call for council meeting are 1-929-205-6099,1-312-626-6799,1-253-215-8782, then enter meeting ID 814-3875-1701 followed by the pound # sign. The city council meets are every other week at 7:30 PM. Call them. write, speak to the mayor and council and ask questions if you care about these issues and more safety. Traffic is increasing with every new day of warmer weather

Your voice counts only if you use it. We ask you to help communicate these issues to the city if you care.


Dennis Sherman
Chairman Save Ocean Ave Committee